FAN SIGNALS – New Innovation
---
Could Fan Signals be an NPS-Killer and disrupt SaaS NPS industry?
The ROI from this unique data and from customer feedback proved to be more desirable and valuable (customer retention, LTV and churn prediction modeling) than Net Promotor Score (NPS).

Fan Signals — MVP
OVERVIEW
The Love Dialog started with a simple question "Do you love our brand?" – query that generated an 80% response rate. Based on how a consumer answers, they will redirect to another type of feedback interaction (survey, message center, ratings R&R, etc.), which captures even more VOC feedback.
1. THE PROBLEM
Customers wanted to see the volume of responses and were confused about how the Love Ratio was calculated since the chart represented a single bar. This is where my design journey begins – working with Apptentive's Love Dialog flagship product as the Lead UX Designer.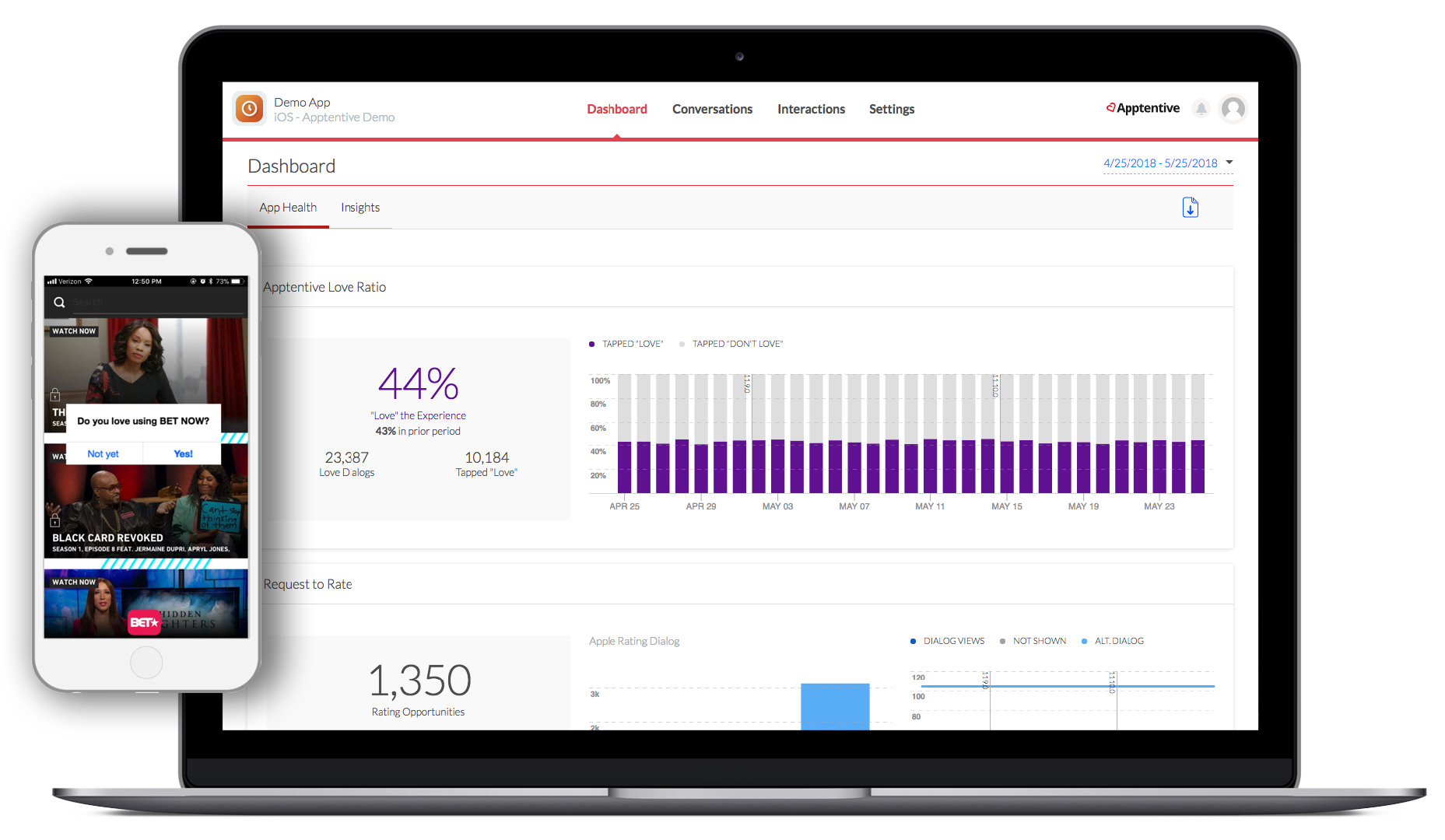 2. CUSTOMER INTERVIEW
I spearheaded the first POC customer interview to validate the design and gauge the customer interest. I conceptualized and iterated on a variety of histogram chart designs and landed on a Pos. / Neg. bar chart, which best represented a binary question. This design solution helped to visually solve the volume issue and showed how responses were trending. This was a pretty good improvement. I created an InVision prototype and shared the screen with our customers to discuss product value and if we should green light the feature.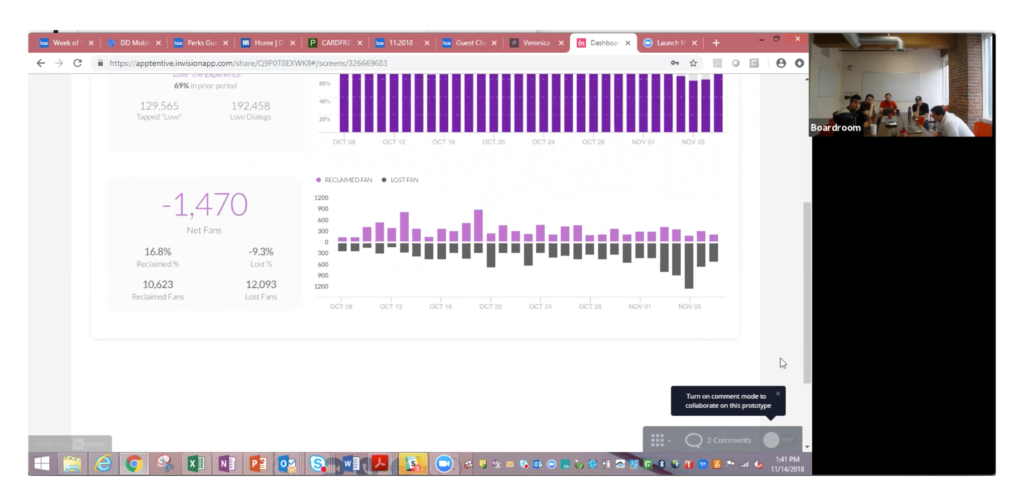 3. THE DISCOVERY
Collaborating close with customers, data scientist, and dev we discovered how consumers answered the Love Dialog over time from mining the data deeper. The insights started show and classify consumers into cohort segments known as Fan Signals (New Fans, Switched Fans, and Repeat Fans). The dev was able to expose an API for redash.io, then I created a public view using real customer data for interviews.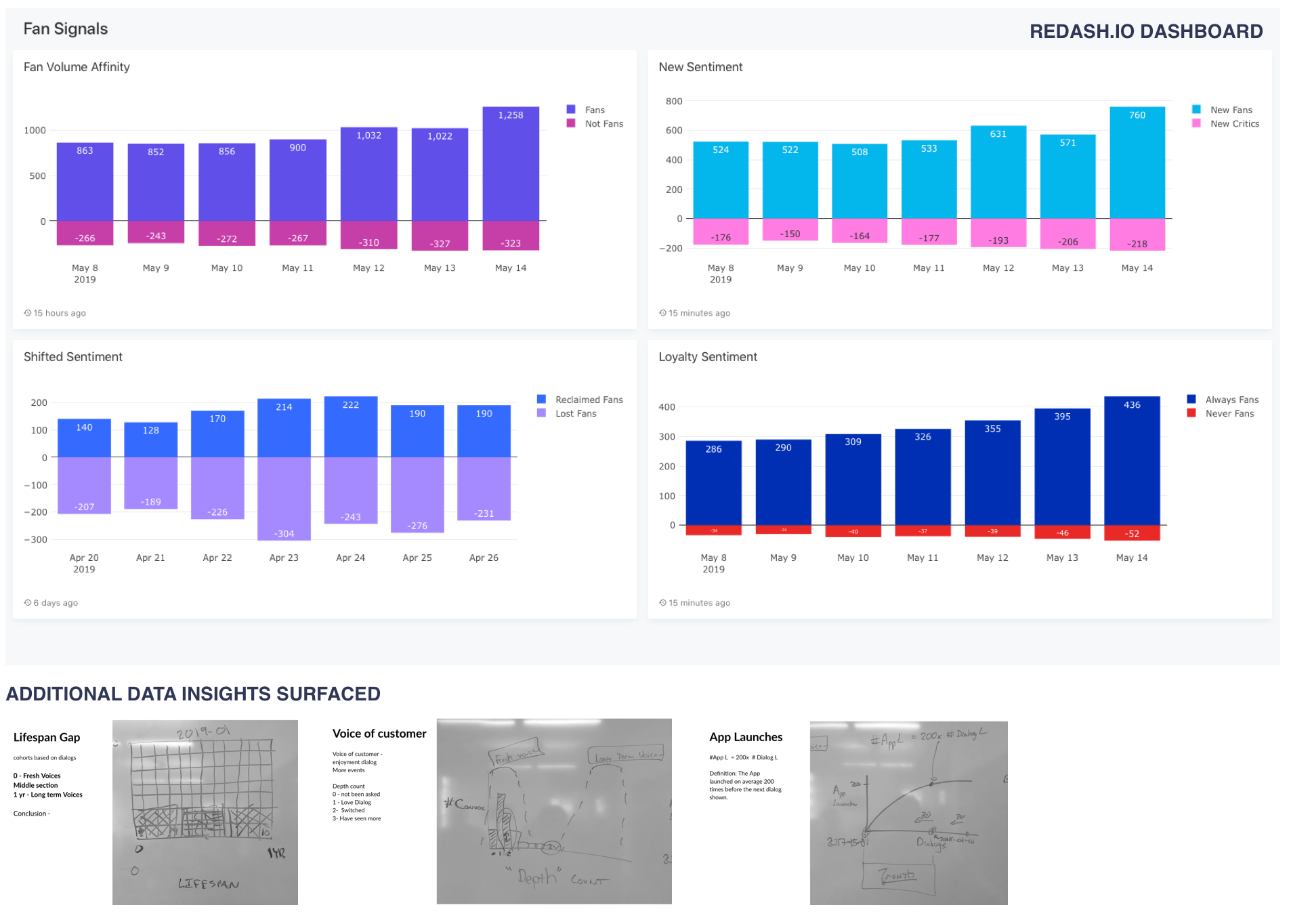 4. PRODUCT VALIDATION
From inception to productization, the team was able to ship Fan Signals to all customers as a feature flipper. The POC from sales interviews received positive feedback as a new up-sell revenue stream.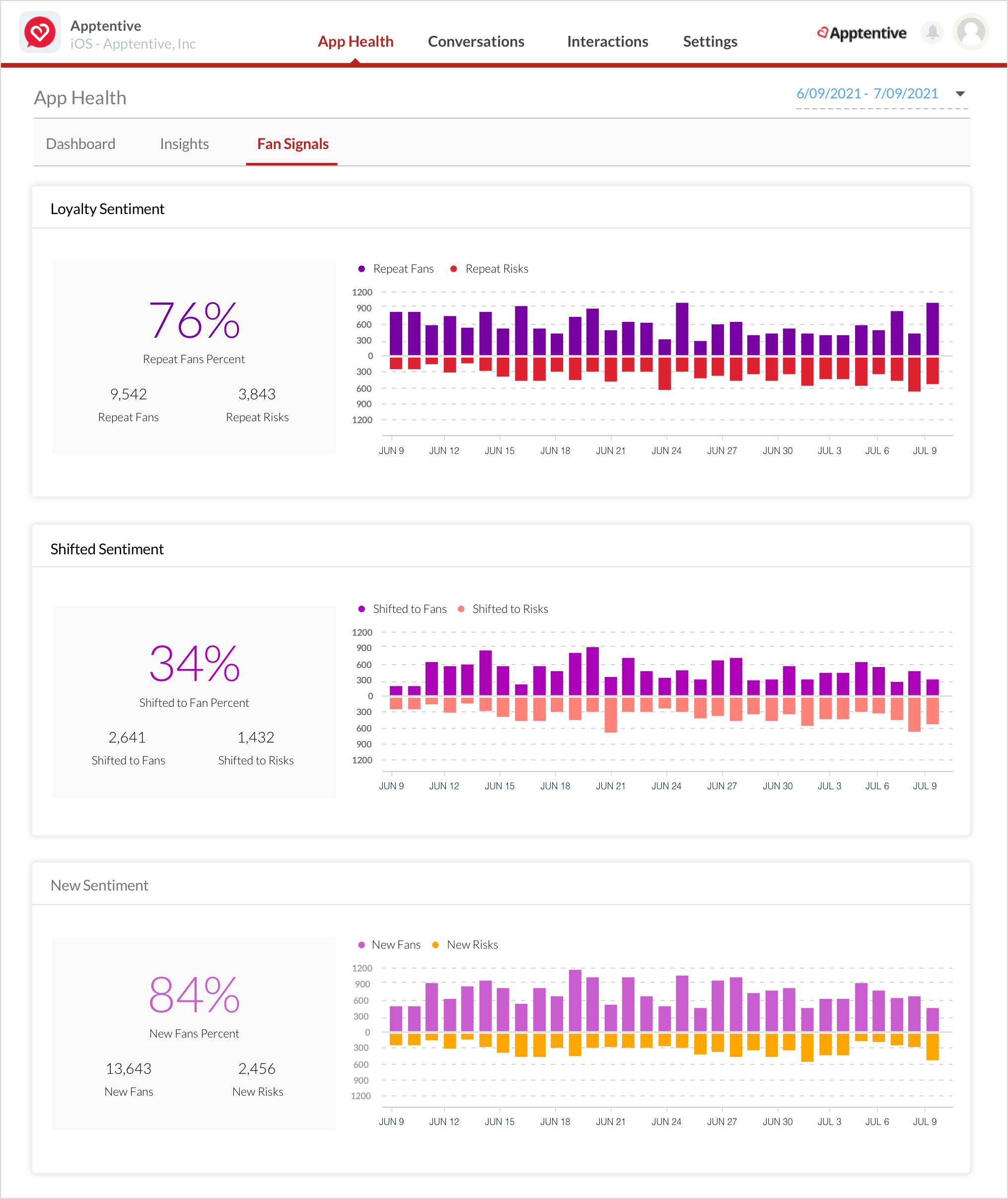 FAN SIGNALS VISION DASHBOARDS
---
Fan Signals Dashboard
The vision dashboard represents a future where the summary cards and the line chart shows customer segments through the lens of loyalty and shifting loyalty broken down into sentiment segments known as Fan Signals.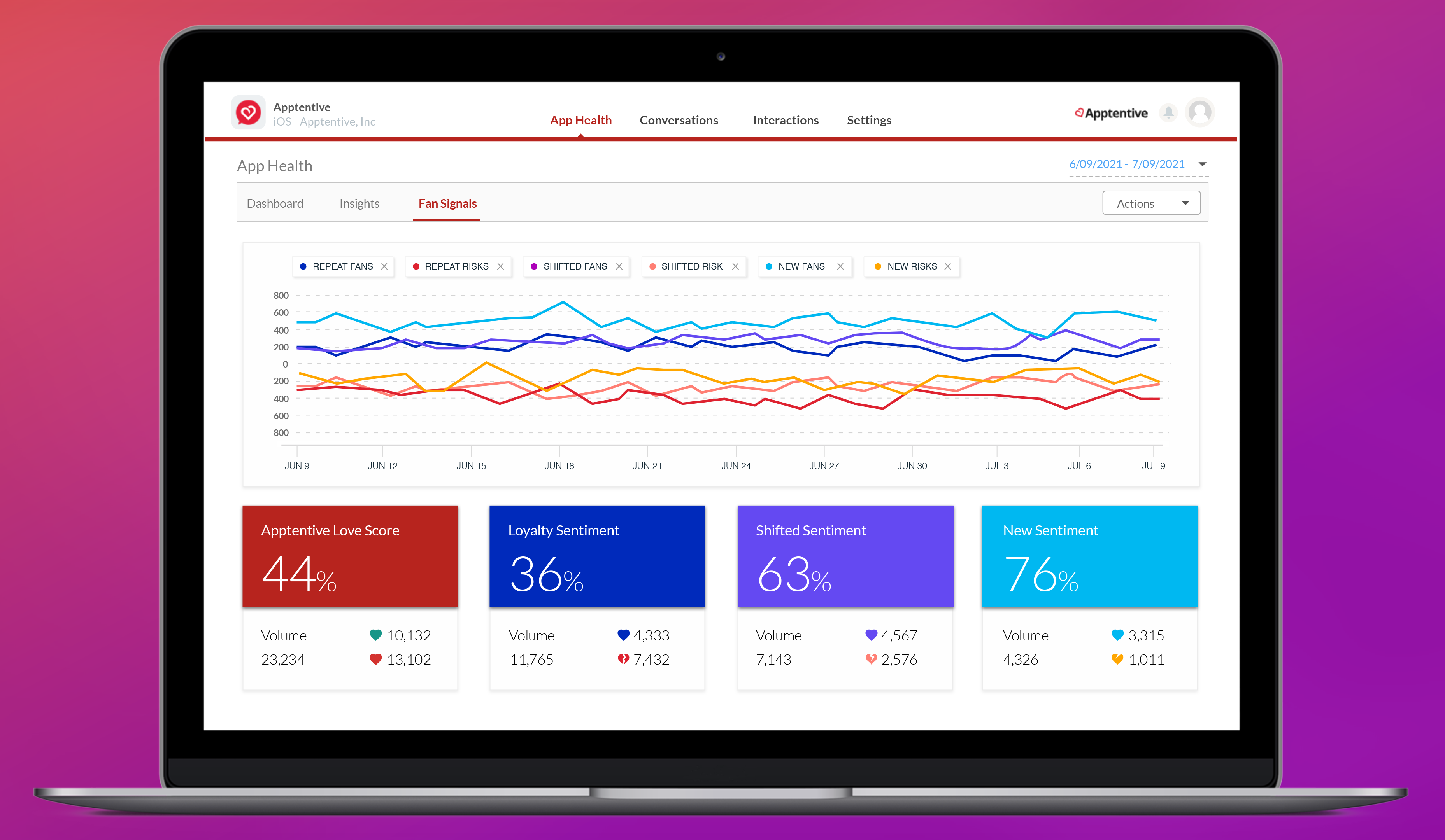 Insights Dashboard
The vision was to augment Fan Signal data with other data to give customers insights into meaningful relationships from messages (open feedback) and surveys.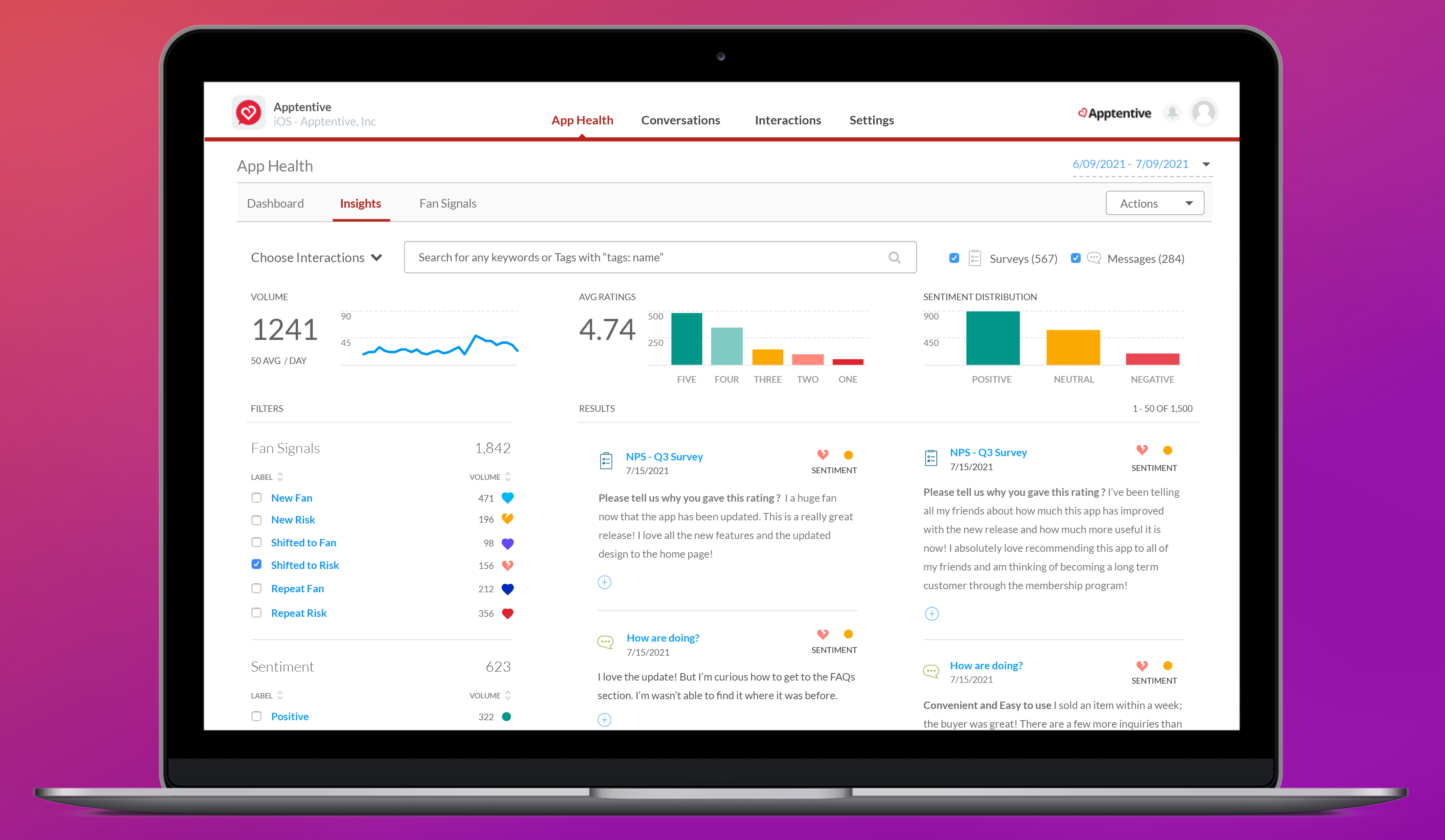 CUSTOMER DRIVEN INNOVATION (CDI)
PROBLEM — The analytics dashboards lacked all visual charts (cubed analysis) available due to budgeting constraints. Part of Customer Driven Innovation process is to get real customer validation before the team builds a slew of new chart analytics.

CHALLENGE — We needed the ability to show enterprise customers the deeper data insights, instead of sending a large JSON dump or excel file without any UI.
SOLUTION — I partnered with a data scientist in creating a flexible template that can be tailored for any customer. This unique solution was created in PowerPoint (instead of Excel or Word) then the document can be linked to an excel data connector while keeping the visualization.
EXECUTIVE REPORT — EXAMPLE
The tailored reports were designed to reveal deeper insights into how customers feel about the brand. Each Cohort segment can be easily swapped with another customer ID.
RESULTS — The reports received great praise as they made it to the C-Suite and with continuous improvements the 20+ page reports ended up closing 50K+ deals.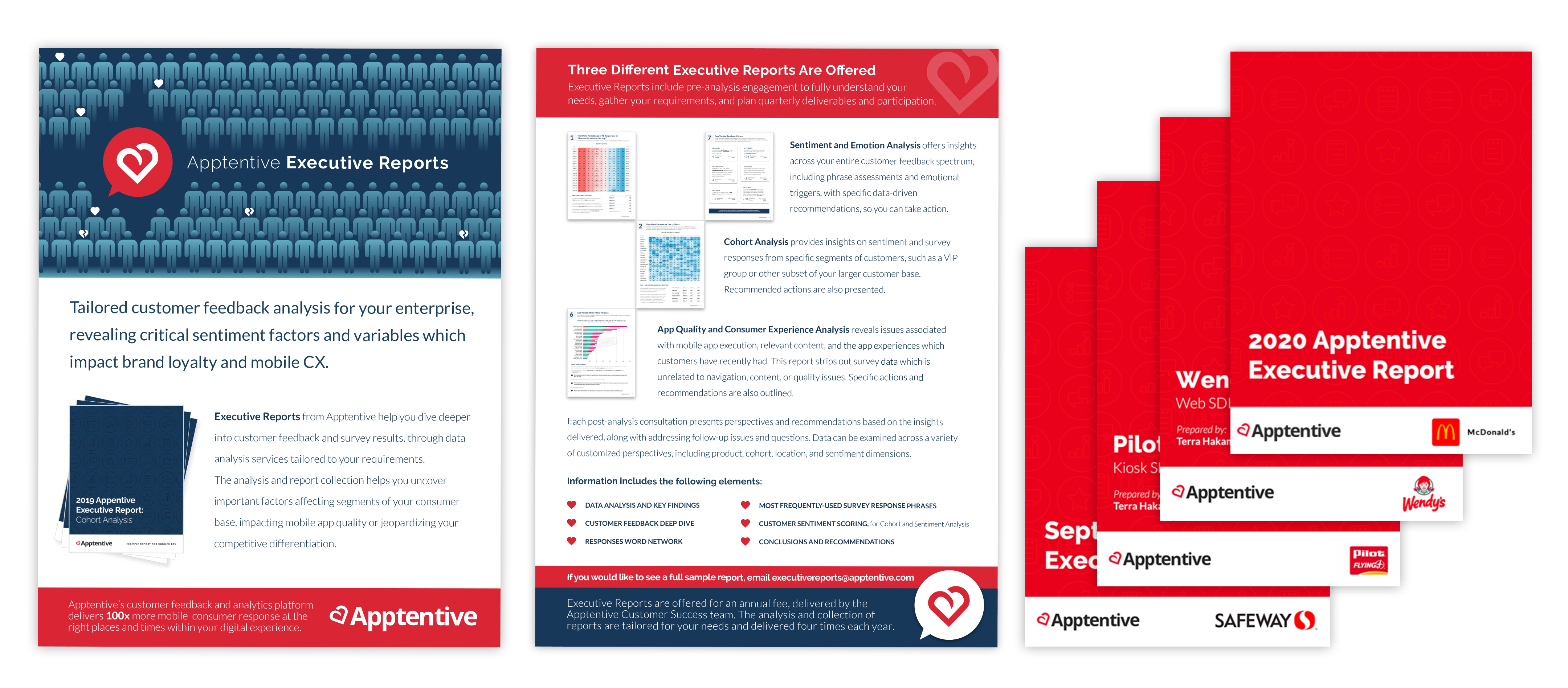 MOBILE WEB
---
NEW PRODUCT CHANNEL – (Mobile Web, Kiosks, API)
The challenge: Apptentive's Mobile Web (WebSDK) lacked key product features compared to the Mobile SDKs (Apple/Android) that made the company successful. I took the role as product producer to update the WebSDK and create product parity with the mobile SDKs as another customer feedback channel.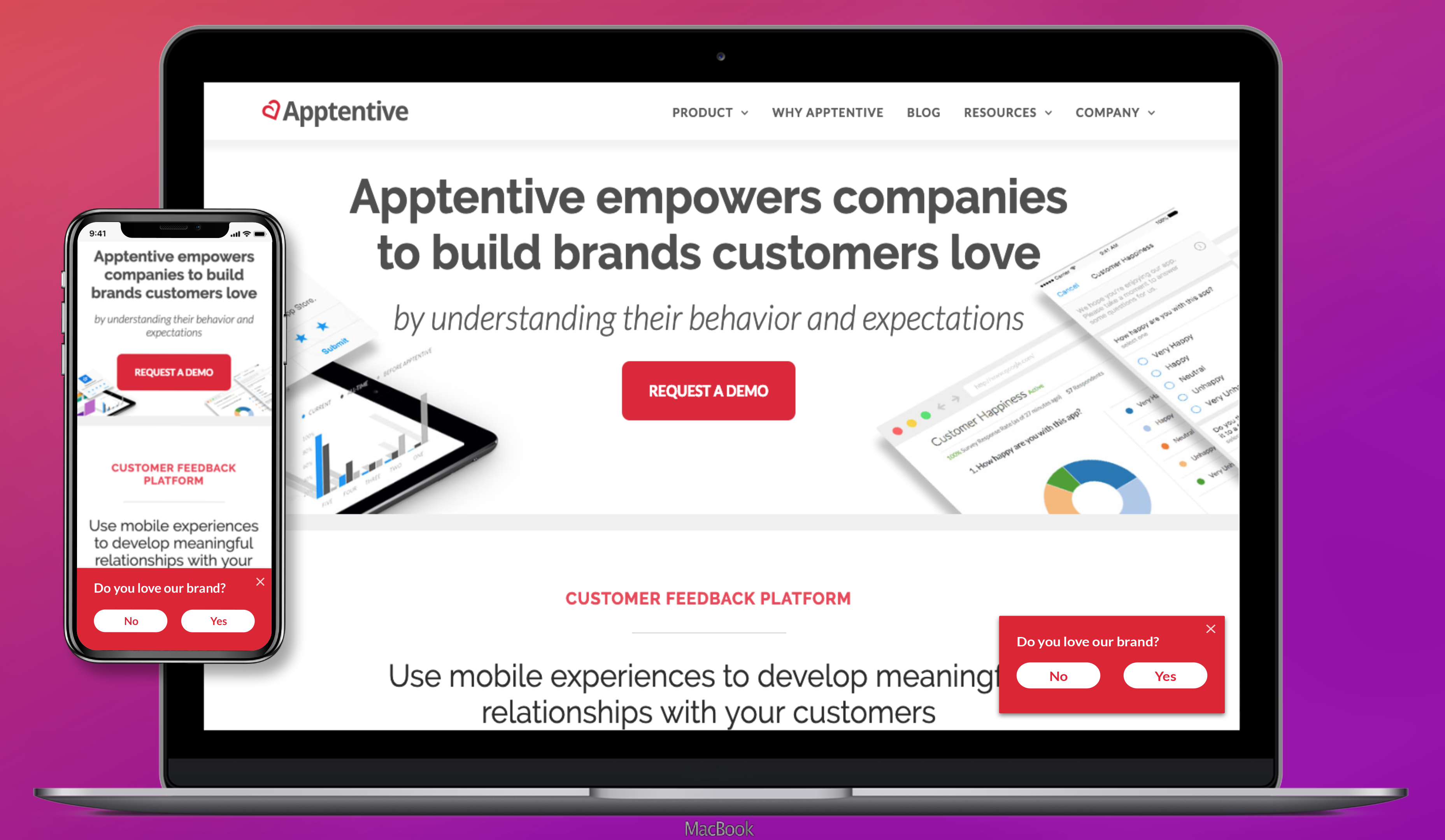 HOW DOES A HYPOTHESIS BECOME A PRODUCT?
I participated in a Hackathon. My proposal was an IoT device with hardware buttons (GPIO ports) connected to a Raspberry Pie using the new API and WebSDK. To complete the project, I conceptualized, designed and built a responsive web app. I called it a progressive survey (skip logic) able to iterate through a variety modal windows that captured the binary Yes/True, No/False feedback questions.

PROOF OF CONCEPT – Customer Love Summit
To engage customers in Apptentive's new products, the company created the Customer Love Summit. I was able to take this event to the next level by showcasing a variety of proof-of-concept feedback mechanisms in real time, all powered by attendee participation. The vision was by the end of the event the CEO on stage could switch to a monitor showing how many customers participated in a live demo dashboard featuring the new API in action.

The Results – Customer participation and enthusiasm were at an all-time high. Everyone involved – from customers to CEO and the event coordinator – loved the feedback mechanism.

DEMO TABLE
I owned the Summit Demo Table, spearheading a variety of feedback devices that included hardware button, 3 kiosks, Table Tents (QRcode), LTE Demo and Geckoboard monitor. Besides doing all the visual graphics, I worked with the developers to make sure each feedback API functioned properly. Participants/Investors gave the Demo Table, and the ability to test out devices in person, high marks.

Example Use Cases: At the event the projector showcased a variety of customer examples on how the new API could capture a variety of different types of feedback. Some closed new customers.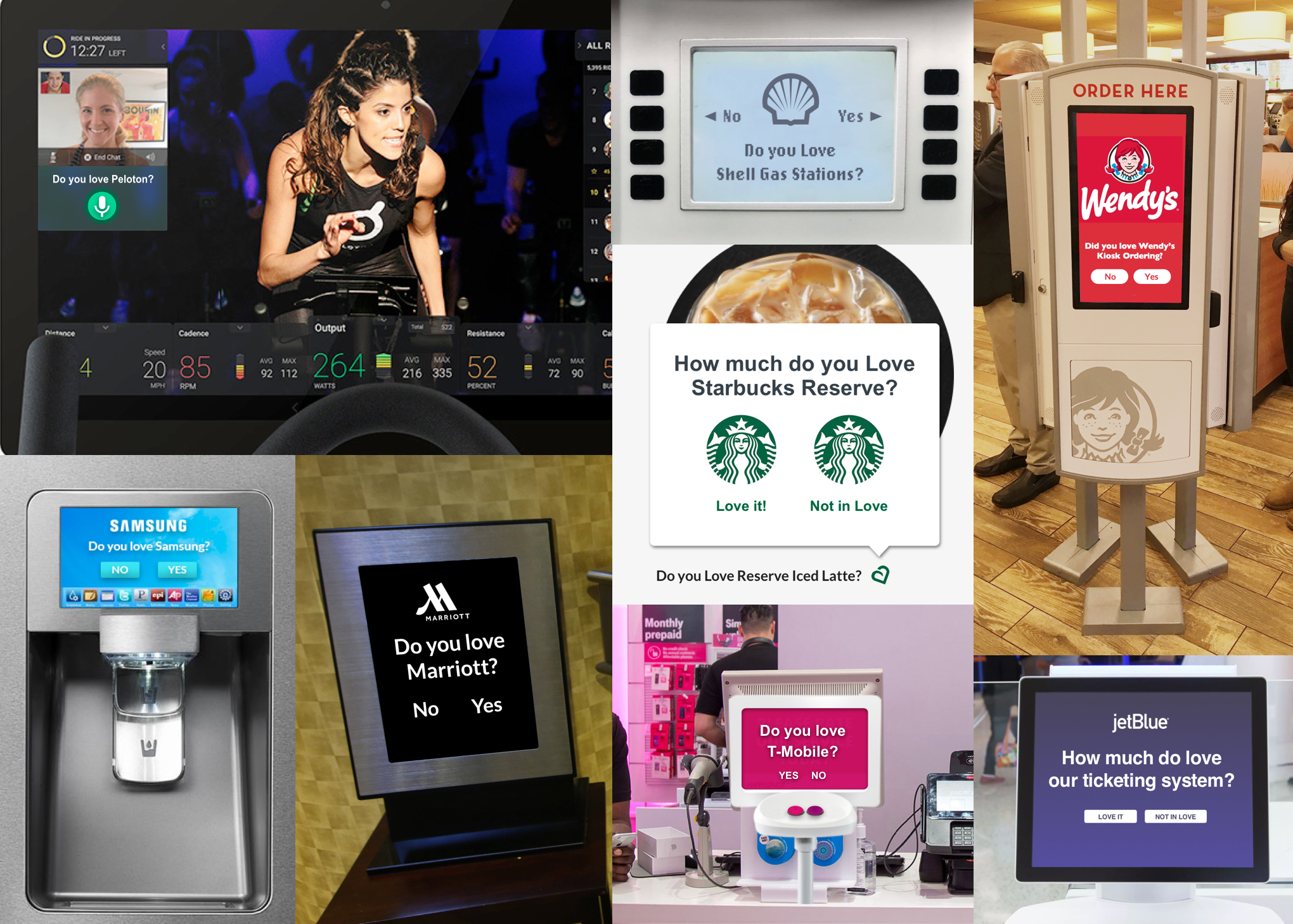 DEMO SITE EXAMPLES
I took the initiative and coded a fictitious Demo Site to QA every product scenario. This sped up the development process by discovering issues through dogfooding the product faster. I built the site to have a background image so it can be easily swapped for any customer interview or sales call.

Results – Sales was able to close deals before product features have been fully productized.
PRODUCT SCENARIOS
In addition to utilizing InVision prototypes, we found it helpful for the team to fully understand individual workflows. I created a series of diagrams, each of which represents a key product scenario and level of effort to implement the feature through the customer POV, edge cases, product bugs, and design polish. The results were instantaneous and ongoing – a better advised staff, who could respond to product needs.
LEVEL UP DESIGN
The original message center looked dated and was triggered by a small, fixed Contact Us button in the bottom right corner of browser windows that was not discoverable. My design solution was to elevate the visibility for the on-screen button and to incorporate additional feedback interactions into the design as a seamless experience.

Results – After updating the button customer feedback increased, enabling the company to be more responsive to customer feedback.
CUSTOMER FEEDBACK
Customers also wanted the ability to customize the look and feel of feedback interactions, since native dialog boxes (Apple/Android UI) lacked the ability to align with the App brand style.
THE SOLUTION
The innovation was to give customers the ability to fully customize feedback types together into one seamless experience. The wireframe shows how the Love Dialog, Notes, Surveys (skip-logic) and Message Center (open-ended) can be stitched together into one fluid experience. By removing checkboxes and radio buttons and use another binary control as an alternative really simplified the experience (NDA).
MARKETING SUPPORT
After successfully shipping the WebSDK, I transitioned to help support marketing efforts, since I was the most knowledge about the product and designed the product page (marketing website), one-pager, product capabilities brochure, and full e2e product video demo.

THE RESULTS — 6 months after launching the WebSDK sales were able to close significant new revenue deals.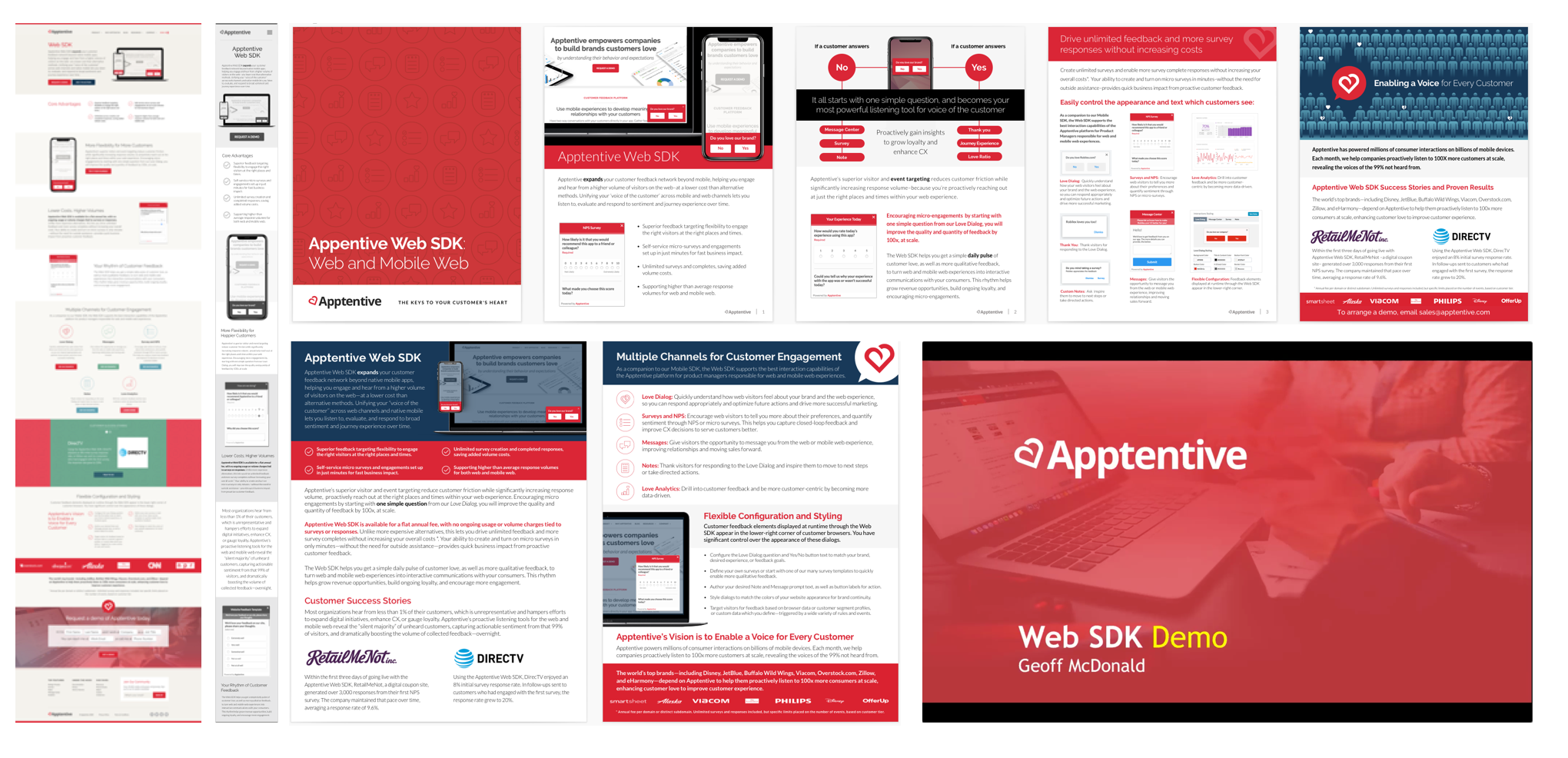 Audience Engagement
---
OVERVIEW
The existing query builder performed well at soliciting and capturing a variety of feedback interactions (surveys, messages, ratings, NPS) – but only in a one-way communication. In their feedback, customers told us they wanted the ability to reconnect with their customers.
PRODUCT GOAL
The product goal is to help customers re-engage with their audience. Among other features, I mapped out the following epics:
1. Segment Builder — The ability to create a segment that can be used by other interactions.

2. Custom Targeting — Create bulk targeting based on custom values such as Key-values, Zip Codes, DMA locations, and Sentiment.
CRITERIA BUILDER
Holistic Journey Mapping – When it comes to epic feature development, it's helpful for the team to understand a holistic map of all individual stories interacting with each other. The key is to show step-by-step each customer story with a workflow so stakeholders get on the same page quickly. This is where the tough questions around feasibility, practicality, cost, and resourcing sway the product decisions.
SEGMENT BUILDER
At a high-level the system is kind of like a Crud system + Query builder. The real power of the platform is to uploading a customer list or cloning a segment to allow customers to re-engage with their target audience. Another other words we call this closing the feedback loop.
SEGMENT BUILDER
In agile development mapping out individual UI stories showing how a customer can go down a rabbit hole and traverse to accomplish a task is crucial for sophisticated platform development.
UI FUNCTIONALITY SPEC
Part of my process is documenting a high-level UI functionality from a designer POV covering use cases, wishlists, and product requirements. The working doc covers a variety epics and product scenarios to help uncover or determine any unforeseen edge cases.
WIRING DIAGRAM — DESIGN POV
Part of my discovery process is do a quick rough wiring diagram in order to help visualize the user journey before the UX process begins.
DOMAIN DIAGRAM — DESIGN/DEV POV
I worked closely with a system architect to visualize how the data would closely mirror how the UX/UI would interpret the customer journey.
COLLABORATION PROCESS
Finally in my process is to map individual user stories with visuals to better understand the big picture. At times, I found when it comes to complex user interactions teams get siloed and miss interpret product features. The printouts help the collaborative process and speeds up development. You know when you have a high performance team is when you get frontend and backend collaborating.