WINDOWS APP STORE PLATFORMS
---
PROBLEM STATEMENT
The Windows App store catalog lacks a broad range of quality apps, which hurts the Windows eco-system, app developers, and bottom-line.
OPPORTUNITY
Through consolidation, MS has the opportunity to greatly increase the One Store marketplace by supporting a variety cross platform technologies. The redesigned dev center would be able to on-board Windows XAML apps, Xbox, Win32, Android, and Services through a unified ingestion pipeline.
APP ONBOARDING PAGES
I designed the App on-boarding workflow pages throughout the platform. I went with an immersive experience than the typical non-immersive (left nav) UI model.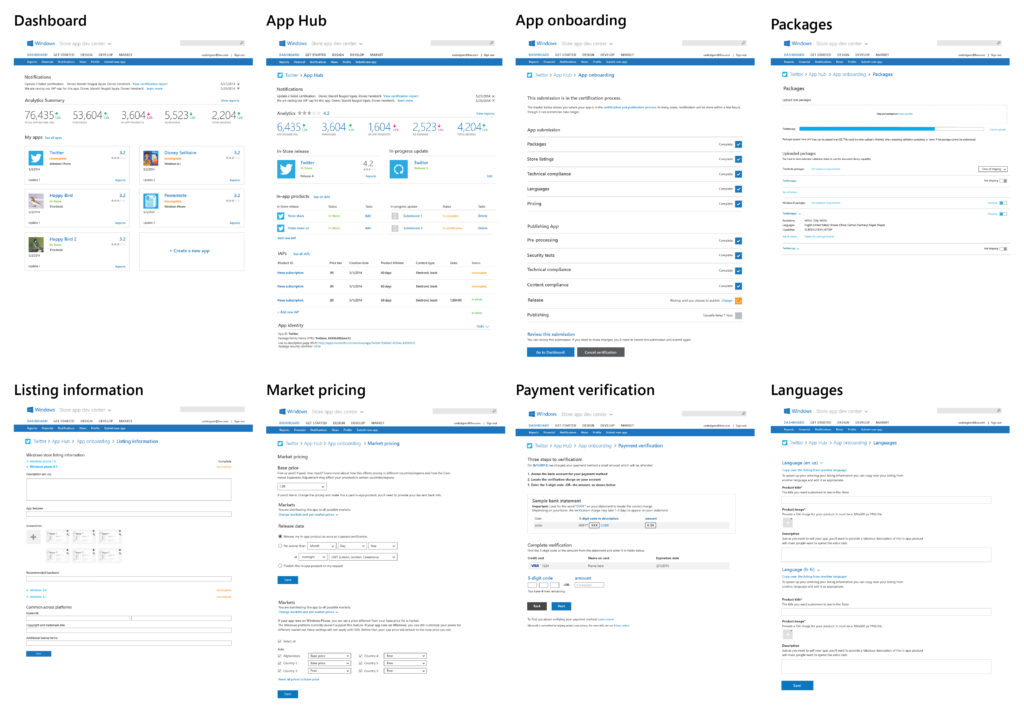 CUSTOMER FEEDBACK PROPOSAL
Problem Statement — Poor customer reviews hurts app install rates and monetization and pitched it to leadership.
Insights — From my own experience publishing Oscar's Adventure as an early prototype app, I received a few negative comments and wished I was able to respond to customer feedback in order to:
· Reduce the amount of negative app feedback.
· Reduce the amount of feedback shown in the app store.
· Reduce the perception of poor Windows App Store apps instead of it becoming product bug triage location.
Proposal — From the App Store allow the ability to send a private message to the developer instead of public feedback regarding minor bug issues. To deter the volume of negative feedback through the ability of responding to customers concerns, this 1:1 personal feedback touch gives the user a validation that their message was heard and that the developer is working on a solution.

WINDOWS DEV PORTAL ANALYTICS
PRODUCT GOALS
App analytics is essential for companies to fully understand their app business. The initial product roadmap included ratings and reviews (R&R), quality, downloads, usage, purchases, conversions, in-app purchases, and financials.
ANALYTIC PAGES
I designed a variety of feature pages to be used throughout the platform.
INSIGHTS
Since App downloads can get initiated from a multitude of locations, it is important for marketers to know how users land on the Windows App Store. The incentive for companies to spend marketing dollars is knowing what referrers to spend those dollars on.

PRODUCT CONCEPT 1
Break down the conversions into much more granular information. This includes URL path tracking, Store listing pages, Store spot light page, Social references, and group similar referrers by the top locations.

PRODUCT CONCEPT 2
Windows applications run in a sandbox environment. My proposal is to enhance the platform to track click-thru's to understand a real user product journey. This would give valuable insights to how users use the product and what forks they go down.

My proposals would give a complete e2e user journey so developers can make validated data product decisions.
RATINGS AND REVIEWS
Ratings and reviews went through a series of updates due to Windows OS updates. This page was the initial tracking page showing the reviews by different OS.

RE-SKINNING CHARTS
I created the style-guide for the initial charts which includes line, bar, and pie charts to be used throughout the analytics pages based on the Windows brand colors. Also made sure the colors pass accessibility at the maximum threshold without compromising too much color.

WINDOWS PHOTO VIEWER
---
SOLUTION – A TIMELESS UI DESIGN
Sharing memories and photos was essential to the Windows 8 suite of products.  This was the first responsive app that spanned across the OS client, Web Apps, and Mobile before responsive became a buzzword. My solution was a film-strip using the glass UI framework which sampled a bit of the image for the ambient background color.
THE OPPORTUNITY – I was tasked to redesign the Windows 7/8 photo viewer (seen below) and create a consistent UI experience across multiple product form factors. The client UI controls didn't make it clear to users how the UI controls functioned. If a user clicks the photo icon it would start an image slideshow.

THE SCOPE – To design a consistent photo viewing experience across the Windows file client, Messenger (client), Live.com, 3rd party API (Facebook), and the iPhone Messenger app. The iPhone app was one of the first (tented) Apple apps developed by Microsoft that I spearheaded.


SHOWCASED – The product was showcased at the annual Microsoft company meeting.

BING SEARCH ADOPTION – Soon after the slideshow launched, the Bing team adopted this UI model using limited feature set.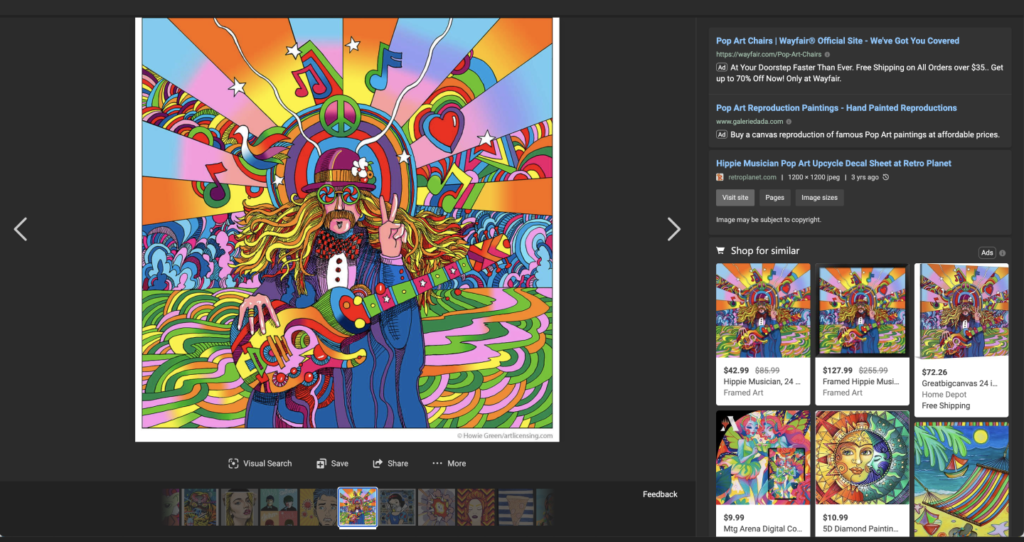 PRESS – Publicity after the launch.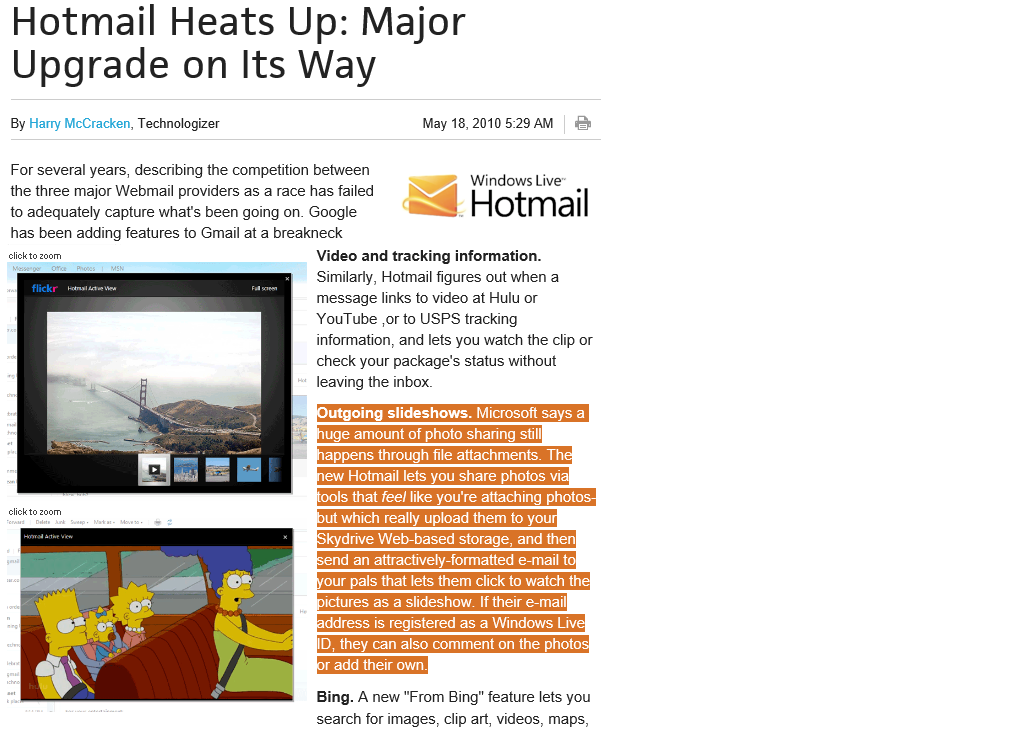 WARREN GROUP | STUDIO DELUXE
---
I have served as technical advisor/producer for Warren Group | Studio Deluxe, an award-winning graphic design studio in Los Angeles. Through a longtime relationship with principal Linda Warren, I've produced a variety of websites for her clients. My success has been the ability to "mirror" the design studio's final artwork flawlessly online.
HairFairies.com
THE CHALLENGE
Take an illustrator file and match it pixel perfect for the web and develop the site to be a responsive e-commerce website.
MY ROLE
Responsible for all development requests, project management, and client consulting. For original websites, I like to customize a Word-Press theme and use Woo-Commerce with a bunch of plug-ins.
StudioDeluxe.com
LindySues.com
CandacePearson.com
Cake Bake Shop
Loyola High School